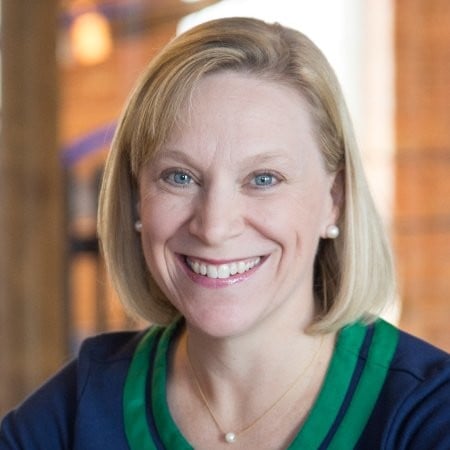 Inside PwC's Tech-Enabled L&D
Connex Staff |
"We're a professional services firm looking to solve the world's most challenging problems. If we were going to really drive this community of problem solvers, we needed to rethink every element of the employee experience, and what our people told us they wanted most was personalization."
What Leah Houde has experienced in her time at PricewaterhouseCoopers (PwC) as their Chief Learning Officer will ring true for many readers. After the pandemic dramatically turned our modalities of work on their heads, personalizing the employee experience has become an important way to differentiate oneself in a hypercompetitive labor market. Today the median tenure in the US workforce is around four years and employees are wanting more flexibility and well-being from their employers. They want their work to drive personal and career fulfillment, in alignment with their values and skills, and expect genuine support from their employers.
In order to rise to that challenge, PwC launched My+, a new people strategy focused on using technology to personalize careers at PwC, all while keeping their clients' needs at the center. Along the way, they've set out to give employees unprecedented flexibility across the moments that matter – including their learning journey.
Digitally Enabled L&D
There are many different elements of strategy, policy, and programming that come together to enable My+, but most intriguing is how they are using technology to advance learning and development (L&D) at the firm. PwC has revolutionized the way that employees navigate their learning journeys through My Learning, a tech-enabled, personalized learning platform powered by PwC's digital assistant. My Learning creates a customized learning plan for each employee's required, recommended and elective learning and makes it easier to track both what employees want and need to learn – from their compliance curriculum, to coursework on the evolution of Web3, to ESG fundamentals and everything in between.
As employees access My Learning, they can find courses to take based on career interests, aspirations, and upskilling needs. My Learning examines the individual's current role and automatically assigns all required coursework for their current position. It also brings recommended and elective learning to their fingertips, so employees can take advantage of learning opportunities required for their role today and the in-demand skills for tomorrow.
"The system says, 'you're a senior associate, in this sector, so here's what you need to maintain licensing' and based on how you answer its questions about the projects you're on and where you want your career to take you, it says 'here are suggestions about all the other pieces you're going to need.'"
Beyond Tech: Making Learning Digestible
My Learning not only centralizes learning in one place, but also includes functionalities for employees to block time on their calendar to complete learning, track deadlines, register for new courses, and more. This tech-enabled people experience is central to My+ and the culture of infinite learning at PwC.
"We started from the position of wanting to build a culture that enables infinite learning, delivering content to staff when they need it, how they need it, and in multiple formats," continued Houde. "But we realized based on employee feedback that it could be overwhelming, hence the need for better tech enablement."
As My Learning provides a personalized learning plan in a matter of minutes, employees have a one-stop-shop to explore coursework rather than needing to find everything themselves. Houde and her team have made the whole process more digestible, but this wasn't the only change that had to be made to make L&D more approachable.

Houde recounts that they also had to better align the language of learning throughout the organization. "There were all sorts of different words people were using for coursework, all of which was supposed to encourage participation. 'Required, expected, mandatory, suggested, should' – these all bloated the lexicon, and it wasn't clear when you actually were expected to participate or not." PwC has since streamlined their learning verbiage, as well as educated the business on what terms mean and how participation is tracked.
The other key clarification process took place when PwC trimmed their learning library and course catalog. "We had nearly 12,000 learning assets in our learning management system, and did a zero- based review – essentially, everything came out," explained Houde, "and had to have a strong, justifiable reason for being added back in." They retired nearly 8,000 different assets, most of which they deemed were either based on irrelevant data, or redundant based on other course work. Houde's team also created a go-forward strategy to codify the regular review of learning assets.
Final Thoughts
So where should HR and L&D leaders look to start in personalizing the learning journey at their organizations? Jumping headfirst into building custom technology is not only costly but could be too much too soon. Rather, Houde argues that the first step is simply listening to employees. "I can't tell you how many listening sessions we had along the way and continue to have. We were honest that we wanted to evolve the way PwC worked in a mutually beneficial way for both employees and the business, but that if we were going to create opportunities for them, we needed to have their wants, needs, and expectations at the heart of our design philosophy." There are still plenty of things for the firm to finesse, but the core ethos of their plans is as inspiring as it is contemporary.
PwC's My+ is a multifaceted cultural and digital transformation that is helping the organization radically reimagine their people experience. For more information on how they've leveraged enablement technology, and HR strategy to make that a reality, be sure to catch our full Fireside Chat interview with Houde.