What is Extreme Commuting? Your Guide to the New Trend
Natasia Langfelder |
Some employees are spending over two hours a day commuting to work and employers are left to wonder how this affects performance.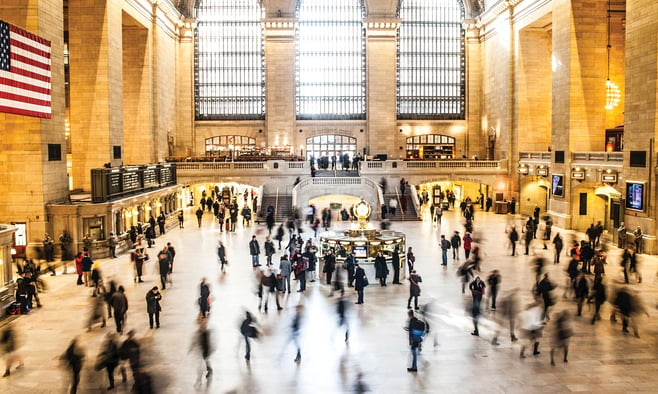 The average travel time to work in the United States is 25.4 minutes. New Yorkers hold the highest commuting time, clocking in at an average of 41.2 minutes. This doesn't come as a shock to anyone. Rental and home prices close to Manhattan, the borough where the vast majority of jobs are located, are sky high and only getting higher. Families are fleeing to the outmost of the outer boroughs and some professionals are moving as far away as upstate NY or leaving the state entirely for the lower prices of Connecticut and New Jersey.
The New York Times recently wrote an article on those who have chosen to move to a location that expands their commute time to over two hours. The Times has dubbed this, "extreme commuting." They profiled people who are currently "extreme commuting" to work in NYC, five days a week. These individuals spend hundreds of dollars a month for the melange of cars, trains, ferries and subways that it takes to get them to the office. [Source]
Disruption of Work-Life Balance
What the article doesn't address, is how these long commuting times are affecting the subject's work performance and work-life balance. When leaving work at 5:30 pm means getting home at 9 pm, as it does for Joe Nevins of Chester, CT, does it mean employees are less likely to stay late in the office during an all hands on deck emergency? Nevins tells The New York Times that he wakes up at 4 am every morning. Does that mean that come 4 pm he is more or less productive than an employee who had an extra three hours of sleep? Is he more likely to leave his current employer in favor of one closer to home?
HR professionals know that when work-life balance goes out the window:
Productivity decreases

Absenteeism increases

Loyalty decreases

Motivation decreases

Turnover increases
Extreme commuting drastically cuts into an employee's life outside the office and can have damaging effects to their performance.
The Mental Health Drawbacks
Scientific studies have proven that people are happier, in general, when their commute to work is shorter. A study done in the UK by VitalityHealth, the University of Cambridge, RAND Europe and Mercer, found that people who commuted to work under a half an hour gained an extra seven hours of productivity. Meanwhile, those with commutes longer than that were 33 percent more likely to suffer from depression, 37 percent more likely to have financial worries and 12 percent more likely to report multiple aspects of work-related stress. [Source]
The Physical Health Drawbacks
Studies have also proved that the most productive employees have a healthy work-life balance, not to mention the health drawbacks. The same UK study mentioned above found that the sedentariness and lack of time to exercise for longer commutes meant they were 46 percent more likely to get less than the recommended seven hours of sleep each night and 21 percent more likely to be obese.
There is also the problem of pollution. Extreme commuters are more likely to be at risk of prolonged exposure to polluted air. A Duke University study found that during rush hour, a massive amount of pollutants piled up on the dashboard of commuters. The pollutants found amassed on the dashboard of these drivers contained a substantial amount of chemicals that cause oxidative stress, which can be a factor in the development of diseases such as respiratory and heart disease, cancer and nuerodegenerative diseases. [Source]
What Your Peers Are Saying
Professionals shared their thoughts, concerns and solutions on LinkedIn using the hashtag #ExtremeCommuting.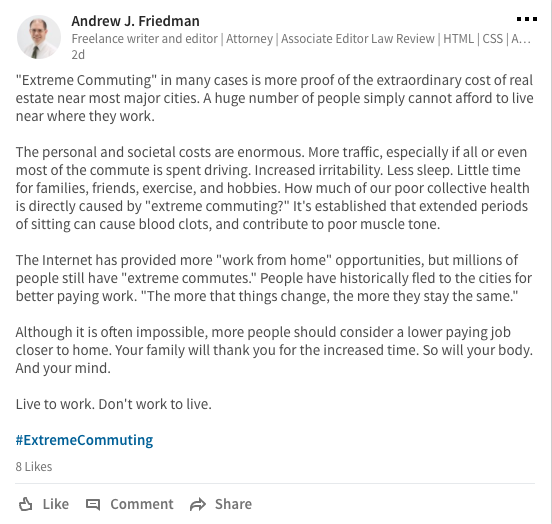 ---
---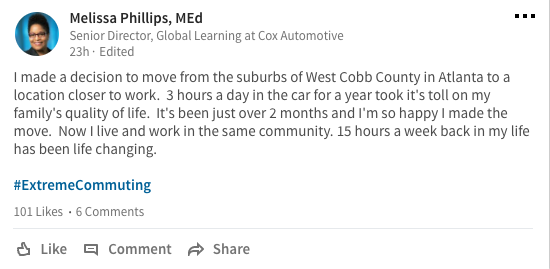 ---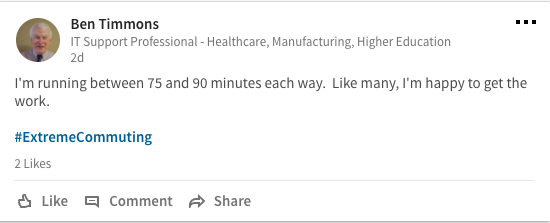 ---

---

---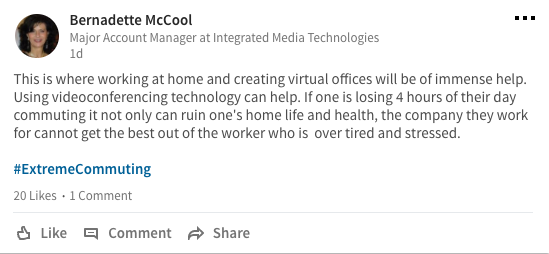 ---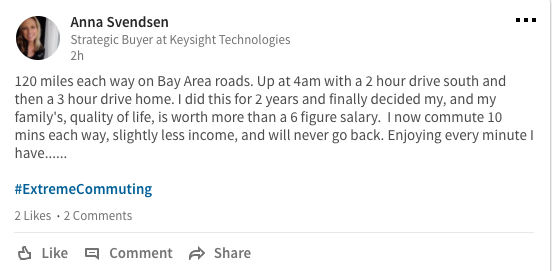 ---

---

---
What do you think of extreme commuting as a trend? Is there a way to fix this problem? Join the debate in the comments below or tweet us @Connex.