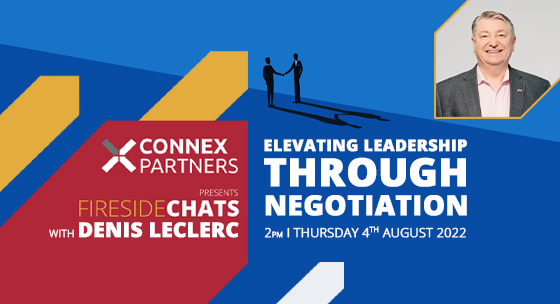 Elevating Leadership through Negotiation: Q&A with Denis Leclerc, Professor of Cross-Cultural Communication and Global Negotiations at Thunderbird School of Global Management
Connex Staff |
When: 4 August 2022 from 2.00 PM - 3.00 PM (EST)
Since the pandemic, the way we work has changed. With hybrid working here to stay, and with some people switching to full-time remote work, leaders have found it challenging at times to inspire and empower their teams as they would have done pre-2020.
So while traditional leadership skills remain vital, it's crucial for HR executives to adapt to the new ways of working with new skills, in particular, what has been called by leading academics 'negotiatory leadership'.
Professor of Cross-Cultural Communication and Global Negotiations at Thunderbird School of Global Management, Denis Leclerc, believes negotiatory leadership is the #1 most undervalued leadership skill in 2022. In our upcoming Q&A, we'll be talking to Denis about negotiatory leadership – about its unprecedented role in the new economy, how we can acquire it as a skill, and why it will help our teams progress and achieve more in a hybrid working environment.
In this session, we will explore:
The critical importance of negotiation as a skill

How the art of negotiation enables HR leaders and their teams to achieve their goals

How negotiatory leadership is more important than ever in an ever-evolving, post-pandemic, and hybrid working world
Those that join live will also have the opportunity to ask Denis a question in a Q&A at the end of the session.