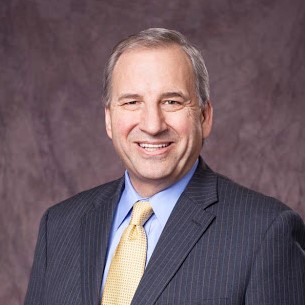 Connex Member Spotlight: Kerry Gillespie
Connex Staff |
Like many healthcare leaders, Kerry characterizes his chief concern as, "not having the time to get to everything I want to," though the tremendous efforts and dedication of his colleagues help to alleviate some of this pressure and keep him coming back for more – "I work with the best people in the world on a daily basis… everyone is highly motivated, focused on doing the right thing for the patients and the community." We suspect that another factor in Kerry's ability to balance complex financial and strategic responsibilities is his youthful energy; like many of our Members, he is not sold on the whole idea of growing up – "I am still becoming an adult… I can thoroughly let myself go when it comes time to play and have fun." That sounds like the right mentality for someone who believes that Utah's ample menu of outdoor activities helps to make it "the best state to live in. There's no doubt." Then again, maybe there's something to be said for the health benefits of a sushi-heavy diet (which Kerry can order in fluent Japanese).
Read the Full Interview:
What's your motto or personal mantra?
The first one is: It's not about activity, it's about results. That probably defines what I do in a nutshell.
Also: There are players and there are score keepers; be on the field playing.
How would you describe your day job to a child?
(Laughter) That's a great question. I make certain that all our hospitals are taking care of their financial needs, as well as the patients.
What are your biggest challenges at present?
The biggest challenge is time. Not having the time to get to everything I want to get to. That's challenge number one. Challenge number two is the need to move at a quicker pace than others in the organization are sometimes willing to move.
How have past job experiences helped you grow in your current role?
Well, that's a great question. My past job experiences have all prepared me for this role, frankly. My public accounting experience has helped me to really understand financial statements and everything that goes into them; my experience as a hospital CFO and administrator has given me a deep understanding of all the things that happen in hospitals; my experience as a multi-facility CFO has given me the ability to balance multiple balls in the air at the same time. And experience with the revenue cycle, managed care contracting, physician practice management, have all given me a great understanding for how everything fits together. Plus, the health plan experience doesn't hurt.
What adjectives would people use to describe you at work?
Focused. I think kind would be one. Driven. Balanced.
What's the best part of your job?
Working with people. I work with the best people on a day-to-day basis. This organization is incredibly mission-driven, and everyone is highly motivated, focused on doing the right thing for the patients and the community. And, we stay financially stable so we can continue to do the right thing for our patients and communities in the future.
At what age did you become an adult?
The answer is that I am still becoming an adult. I can thoroughly let myself go when it comes time to play and have fun, I love to do that. But I have learned how to be serious and get results.
Is your state the best to live in? Why or why not?
There's no doubt that Utah is the best state to live in. There's no doubt. We have a wonderfully diverse geography. The mountains are phenomenal, there are lots of activities, from skiing, to hiking, to mountain biking; there's fishing – virtually anything you want to have, you can have it here. In addition, the cost of living is relatively low compared to the west coast and the people here are really, really nice. The education system is strong. There's a lot of diversity. It's a great place to work and live.
What's a recent organizational achievement that you're most proud of?
The creation of Civica is probably the thing I am most proud of at this point. For those who don't know, Civica RX is a generic drug manufacturer we started with a number of other healthcare organizations. It's actually delivering drugs: our first vials of generic vancomycin went out late last summer. It's been a great boon to the industry, and I think over time it will help keep pharmaceutical costs in check for health systems and providers.
Talk to me about your organizational culture.
Out culture is very high touch. We thrive on delivering a really high-quality level of care. We were challenged many, many years ago when the system was setup – there were a number of hospitals that were donated to Intermountain Healthcare by the Church of Jesus Christ of Latter Day Saints and the edict was to build a modern, model healthcare system. Everybody that is part of Intermountain or leads Intermountain has that in the back of their mind.
What's the biggest misconception about your organization?
That we're small. A lot of people think, 'Intermountain, who's that?' People think we're a small single-state organization, when in fact we have operations in four states and are in full growth mode.
What does being a strategic leader mean to you?
Strategy has multiple elements to it, and being involved in the strategy design of Intermountain Healthcare – including the execution on that strategy – is something that I'm tasked with; to use the old Wayne Gretzky axiom: The successful strategy is considering not where the puck is, but where the puck is going. So, we need to try to look into the crystal ball, determine where the puck is going, and trying to skate there.
What's the best trip you've taken?
Antarctica. Antarctica is such an amazing place. It's like nowhere else on earth. The wildlife – the penguins, the whales, the sea lions, the leopard seals – is just incredible. It's the cleanest air I've ever breathed, and it's the quietest place I've been.
If someone had asked you what you wanted to be when you were a kid, what would you have said?
I would have said a doctor. That's kind of where I was always headed. I ended up in healthcare, just not on the delivery side.
If you could interview one person dead or alive, who would it be?
Moses. I would ask Moses: How do you lead hundreds of thousands of people, who don't want to go where you want them to go, where they need to be and still keep your sanity intact?
Would you get his autograph?
I would, absolutely.
If you could be one fictional character, who would it be?
I've always wanted the power of flight, so if I could be any fictional character, I would be Superman. My desire is to be a force for good in the world.
Tell me about any charitable endeavors that you're involved in.
Sure. I am involved in the Intermountain Foundation, I participate there, I give a certain percentage of my salary to that, and we do a lot of good work.
What's the best career advice that you've ever been given?
To always have integrity and reach for the stars.
What's something interesting about you that most people don't know?
That I speak Japanese. I did missionary service in my early 20s and lived there for two years.
Do you ever get to use it?
I do. I used to be fluent, but as I get older and don't use it as much, I forget. But I've been back to Japan several times, and about 6 months before leaving I re-study it, so when it's time to go I can speak it pretty well.
I bet there are a few surprised looks when you open your mouth.
There are. There are.
What would your last meal be?
Fresh sushi from Tokyo. I am a die-hard sushi guy through and through, and the best sushi is made in Tokyo
What sports teams do you follow?
I follow college football. I am an incredible fan of the University of Georgia; it's my alma mater and I am just really pleased to see how well they do. I am also a college wrestling fan, and I try to stay close to the college wrestling scene. I wrestled in high school and it was one of the great experiences I had as a kid.
What was the best advice your parents ever gave you?
Do the right thing.
Is that what you tell your kids?
Absolutely.
How would you characterize your relationship with us, and how is it different from some of the other associations and memberships that you're a part of?
My relationship with Connex has been excellent. I have found Connex to be incredibly personal, more personable than other organizations I've dealt with. I really enjoy the format of the meetings, it's not a cattle drive, it's more, get-to-know you, understand what your needs are, and then see if we can find some vendors that might fit inside those needs. It certainly is a completely different scenario, and because of that I continue to go to Connex even though I don't have time for any other organization.
How about the vendors you have met, would you have found them otherwise?
Probably not, maybe with a lot of work on my part, but to have them come and talk about what they do with no other distractions makes it easy to develop a relationship. And then if there's a need, then the rest kind of follows pretty easily.