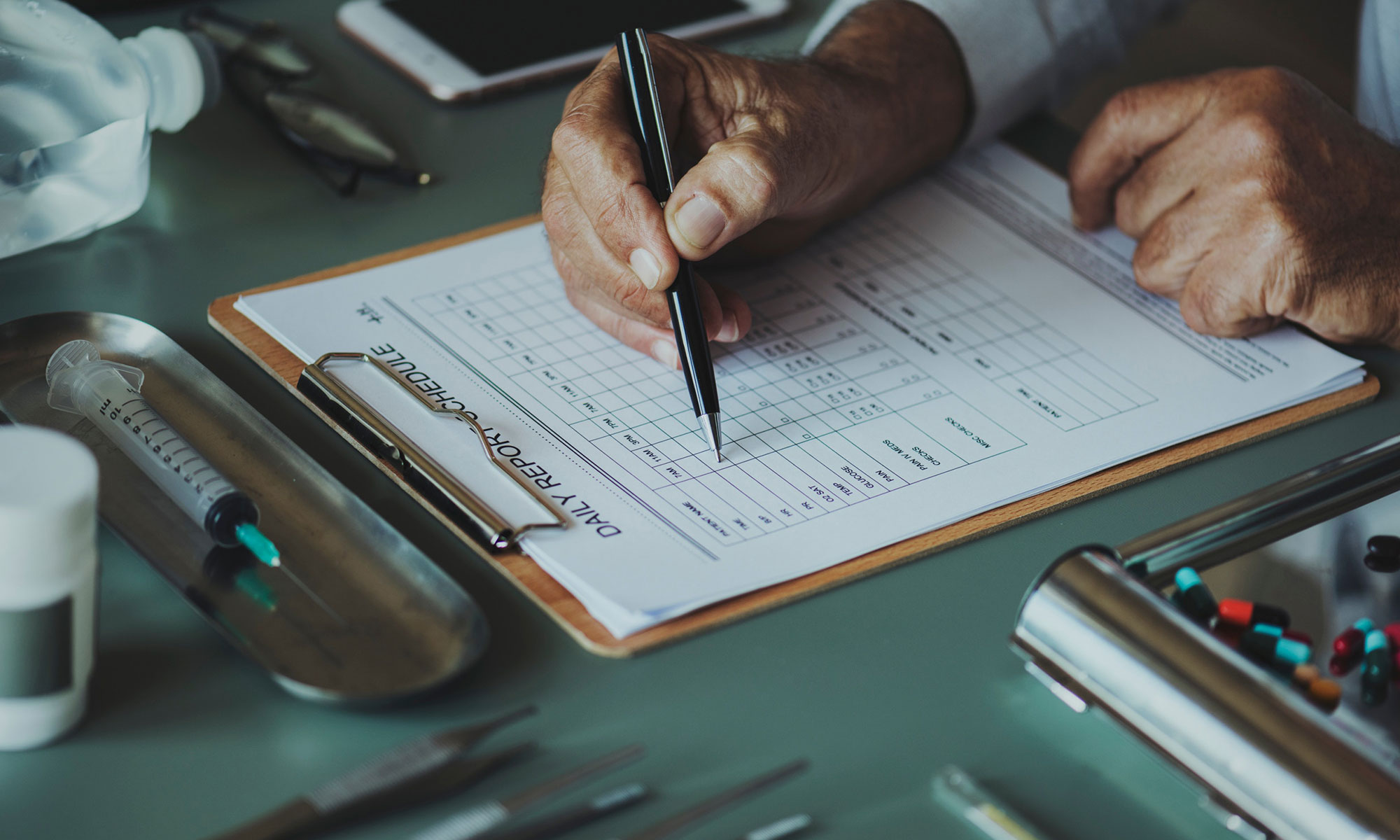 7 Essential Steps to Prepare Your Revenue Cycle for Success in Value-Based Healthcare
Natasia Langfelder |
The fee for service (FFS) model is fairly easy to understand. However, that doesn't necessarily make it the best model for the healthcare revenue cycle—or even for the patient. As recently as last year, over half the physicians surveyed were still not transitioning to value-based care.
A good portion of their reticence is due to misunderstanding how the new value-based healthcare system works in practice and whether it is beneficial to the patient and the revenue cycle. Many physicians believe transitioning will make extra work for them. It's also a bit more difficult to understand the payment model. Fee for service, on the other hand, is simple to understand. Each service carries its own payment structure.
The problem with the fee-for-service model is it doesn't offer the best efficiency. In terms of the revenue cycle, efforts to help with patient compliance and education are often outside the payment structure. Value-based models allow reimbursement for those efforts as well. This lets practices and organizations to invest time and energy in proactive wellness measures without foregoing revenue on that investment.
Another aspect of the transitioning process is the political climate. There is obviously uncertainty regarding the future of the Affordable Care Act and thus some question whether transitioning to a value-based healthcare model will be mandatory. But the reality is that value-based healthcare can be more advantageous for organizations and patients than the FFS model.
Here are seven steps to help prepare your revenue cycle for success in value-based healthcare.
Map Your Transition to Value-Based Healthcare in Stages.
The first consideration in preparing to transition is the organizational structure itself. FFS and VB are two entirely different models, and they don't work in conjunction in every scenario. So transition can be difficult if not well organized prior to starting. Leadership needs to be clear on the process and how it impacts revenue cycle and daily operations.
Because you'll be changing existing protocols to allow for a more value-based method, you need to ensure the measures are outlined clearly. It may make sense to map your transition in stages to accommodate better training and comprehension. This will ensure the revenue cycle won't be negatively impacted during the transition.
Implement and Thoroughly Utilize Analytics
Analytics are your biggest asset in understanding how well your current and future protocols work. You can't see a full picture of outcomes without data. If you don't currently have an EHR system that allows you to easily access analytics for a comprehensive view of each organizational area, a new system may be a necessary investment.
Most large hospital organizations already have robust EHR systems that provide picture-perfect data capture. Some smaller practices may need to get on board, but it's a worthwhile investment in so many ways. You'll be able to get a clear picture of patient demographics, pinpoint information on specific patients or areas of treatment, and easily see solutions to trends and issues that may not be noticeable up close. The data paints a wide view you won't see at the patient-to-patient level.
A robust system will not only allow you to improve patient outcomes; you'll be able to get a full picture of treatment, outcomes, and financial data to determine the success of current protocols and pinpoint areas for adjustment. With real-time capabilities, treatment protocols can be streamlined as information becomes available. Data should also be assessed often to measure progress and set new goals.
Understand Your Demographics, and Use Population Healthcare
A population healthcare model allows you to access patient records along the whole journey, not just through your facility. Patients who see multiple physicians or use an ER, rather than their own primary doctor, often don't see cohesive care. Records may not be accessed across multiple visits, and the patient may or may not be forthcoming with pertinent information because they may not understand the importance.
Understanding your patient population is key to providing good, value-based care. Different demographics have varying needs and see higher rates of specific issues. This is another area where robust analytics are helpful in easily pinpointing demographics you work with most often. It also supports better understanding of their needs, which contributes to their overall wellness.
Identifying demographics by percentage allows you to develop resources to best serve patients' needs while implementing ways to improve wellness for those with gaps in medical treatment. Each demographic has particular needs. Your organization may see a broad spectrum, but pinpointing where better, proactive well care can decrease ER visits and hospital stays is advantageous to everyone involved.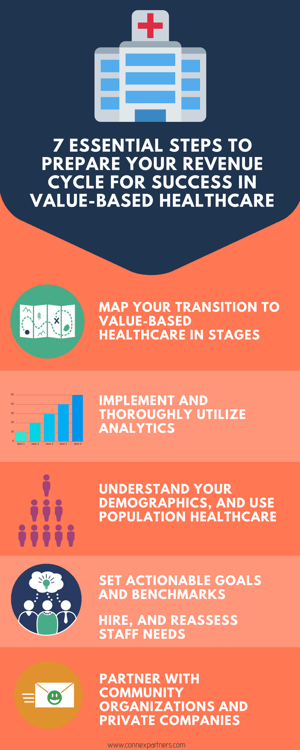 Set Actionable Goals and Benchmarks
Switching to value-based healthcare can be confusing because you're looking for quality rather than quantity, which can be more difficult to benchmark. Ideally, you're looking to switch protocols for the highest-quality outcomes possible.
Adding improved customer service and more streamlined admission processes are good measures to improve quality. These measures directly impact patients and allow for payment transparency, which alleviates some stress over rising medical costs. Many organizations are directly modeling their goals and benchmarks after the Centers for Medicare and Medicaid Services' Quality Rating System. This offers a great benefit because you're already working in correlation with regulatory compliance needs for payers in claims. These benchmarks also make great sense in value-based methodology, so it's a great alternative to reinventing the wheel on your own.
Hire, and Reassess Staff Needs
Staffing needs will be a primary concern as you transition to a more value-based approach. As you reorganize, new tasks will need to be undertaken to drive the value-based model. You may find it advantageous to hire new staff, promote current staff, or reorganize duties—minimizing new employee payroll without excessive, additional stress on current employees.
Current employees can provide a wealth of knowledge in how your organization currently works and potential improvements. Including them in the discussion will be advantageous as you move forward to successfully utilize a more value-based method. Each staff member sees a different portion of the patient process on an intimate level, so their perspectives can be invaluable in well care.
Partner with Community Organizations and Private Companies
Community organizations have offered different well care programs to their surrounding areas since their inception. Hospitals and care facilities have long found it advantageous to work with these organizations for better population health measures. As we move to a more value-based model and better understand demographics served, these community organization alignments can help patients take better control of their own well care. Some organizations might also offer senior services, such as transportation to appointments.
Some companies also offer services to local hospitals and clinics in return for positive marketing. These options can support better patient care without higher expenses for your organization. For smaller practices and clinics, partnering with larger hospitals and other networks of physicians can also be advantageous. This can enable a more streamlined sharing of digital information when patients overlap and can give smaller practices more aftercare and well care options to offer patients.
Revisit Your Analytics and Rethink Your Success Benchmarks
In the fee-for-service method, your view of success likely hinged on positive outcomes. Success might even be measured by the duration of a patient traveling the revenue cycle management journey to final payment (depending on department and data assessed). The key difference between FFS and a value-based model is in the idea of success. In the value-based model, optimal success is wellness. And that sounds a lot harder to measure.
The traditional model aimed for fewer hospital days and readmissions. Those are still important, but finding ways to keep patients healthy at home reaps even greater benefits for the patient and facility. Some measures organizations are having success with include remote patient monitoring options, or telehealth. In cases where the patient doesn't need around-the-clock care, there are technological options that allow them to track their own recovery. Patients involved in their treatment, taking a hands-on approach to their care decisions, are often more compliant with recommendations and see better recovery and wellness benefits. This will cumulate in revenue-cycle management success—greater patient satisfaction, streamlined processes, and overall increased profitability.
---
Enjoy our content? Apply to become a member and gain exclusive access to our knowledge network.