A Must-Read for all HR Leaders
Inside CHRO is the new magazine for leaders in human resources. A must-read for CHROs and human capital decision makers, Inside CHRO provides the latest insights on topics including remote working, talent management, total rewards, DE&I strategy and more.
CLAIM YOUR FREE DIGITAL ISSUE OF INSIDE CHRO
Published by Connex Partners, Inside CHRO brings you unique perspectives from a global community of HR executives. Get practical insights to drive your decision making and inspiration from the pioneers who are shaping the workplace of tomorrow. Simply fill out your details below to receive your copy.
YOU WILL RECEIVE
Full access to the first digital issue of Inside CHRO.

A wealth of senior HR content, including articles on how to manage remote working and optimize recruitment and retention.

Exclusive interviews with HR leaders at Salesforce, Refresh Mental Health and best-selling business author Ken Blanchard.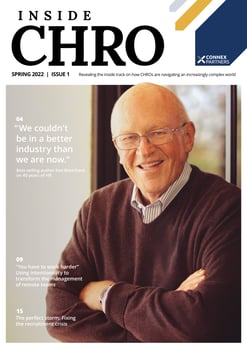 HIGHLIGHTS IN THIS ISSUE
'We couldn't be in a better industry than we are now': Ken Blanchard on 40 years of HR
Ken Blanchard was born in New Jersey and raised in New York. In 1982 he published the seminal management text, The One Minute Manager, recounting the three techniques of an effective manager: one minute goals, one minute praisings, and one minute reprimands. A new edition revises the one minute reprimand to a one minute redirect, adapting to the rapid pace of change in the modern working environment where everyone must learn as they go.
'You have to work harder': using intentionality to transform the management of remote teams
When the sink and faucet manufacturer Elkay was faced with a labor shortage in October last year, the HR team at the group's major plant in Savanna, Illinois, came up with an ingenious idea: get volunteers from across the group to come and work in the plant to help ease the backlog.