A Must-Read for all HR Leaders
Inside CHRO is the new magazine for leaders in human resources. A must-read for CHROs and human capital decision makers, Inside CHRO provides the latest insights on topics including remote working, talent management, total rewards, DEI strategy and more.
CLAIM YOUR FREE DIGITAL ISSUE OF inside CHRO
Published by Connex Partners, Inside CHRO brings you unique perspectives from a global community of HR executives. Get practical insights to drive your decision making and inspiration from the pioneers who are shaping the workplace of tomorrow. Simply fill out your details below to receive your copy.
YOU WILL RECEIVE
Full access to the second digital issue of Inside CHRO.

A wealth of senior HR content, including articles on how to build a people-centric DEI strategy and how to make total rewards more inclusive.

Exclusive interviews with HR leaders at Xerox, JP Morgan Chase, and other leading organizations.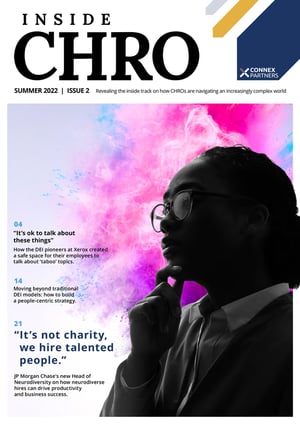 HIGHLIGHTS IN THIS ISSUE
"Consider the whole person": Inside a successful DEI strategy
Diversity, equity and inclusion (DEI) strategies in companies across the globe came under the microscope in the wake of George Floyd's murder. At Xerox, a long history of considering DEI in its HR practices laid the groundwork for an agile response. Under Suzan Morno-Wade's leadership, the company embraced 'a higher consciousness': the idea that there is no single right way to approach DEI, but that each individual should be considered for the whole complexity of their experience.
"It's not charity": The power of cognitive diversity
Companies across all industries are waking up to the fact that in most roles, it pays to have people who think differently from one another. But as Bryan Gill - JP Morgan Chase's new Global Head of Neurodiversity - knows, it's not just as simple as recruiting individuals who describe themselves as neurodivergent. A sophisticated HR strategy is required to assess candidates and support neurodiversity in existing roles. One of the first things companies can do is adjust their hiring practices.