David Martinelli named Chief Executive Officer as Connex Partners finds a new home in FiDi.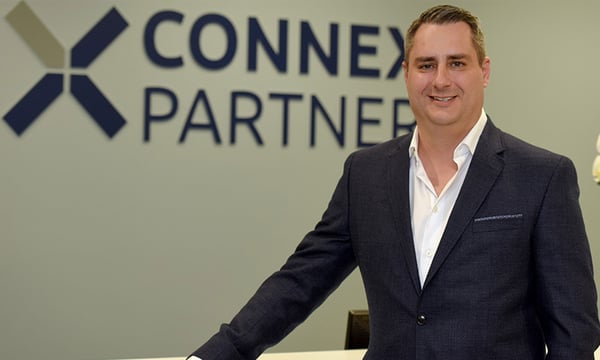 NEW YORK—Connex Partners officially announced today that the Company's Board of Directors has appointed David Martinelli as chief executive officer. Martinelli, an industry veteran with 25 years of experience, has served Connex Partners as a managing partner for over eight years. Former CEO and Connex Partners co-founder, Benjamin Collins, is now focusing his expertise on his role as president. Collins will continue to serve as a managing partner of the business. These staff changes have been made amidst an office change, with the company headquarters moving to 180 Maiden Lane in the heart of Manhattan's busy Financial District.
"Serving Connex Partners as CEO has been an honor, and I am proud of everything we have accomplished since founding the company in 2006," said Collins. "We have hit our targets, exceeded our goals, and grown our staff."
"As we move to the next stage of our company's growth, we have decided that a new leader, along with our new location, will have a positive impact on our future," said Collins. "We are confident that David Martinelli is the right person for the job. His passion, experience and consistent follow-through is exactly what we need to keep our momentum going."
"I know all of Connex Partners joins me in thanking Ben Collins for his excellent work in getting us where we are today. I look forward to taking the reins as Connex Partners enters this exciting period of change," Martinelli stated. "I have a clear vision of what we need to accomplish and how it can be done. We will improve the business in ways that will benefit our numerous members, partners, and employees. I will be in the trenches with our staff every step of the way."
About Connex Partners: Connex Partners is an exclusive knowledge-sharing network of industry leaders in healthcare, human capital, legal and institutional investments. The consultancy provides intimate and noteworthy, peer-to-peer networking opportunities where members can exchange high-value information, winning advice, and proven solutions. Connex Partners is based in New York City's Financial District.
---
Interested in finding out more about membership? Contact us.