Posted on

June 13th, 2016

by Katie Willard
Connex Chronicle Chats with Louis Amis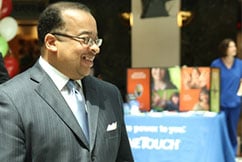 We recently had the opportunity to sit down with Louis Amis, Director of Employee and Retiree Benefits, City of Atlanta. The division Amis oversees is tasked with providing and maintaining efficient and courteous customer relations in the administration, management and maintenance of the City's insurance benefit programs. It is responsible for serving as the primary resource for health, dental, vision, life and supplemental insurance benefits offered to both active and retired employees. Charged with the overall management of the City's Health and Wellness Initiatives, the division operates an Employee Wellness Center, which includes a state-of-the-art fitness facility and an Employee Health Center.
---
The Chronicle: Could you please tell us a little about yourself and your scope of responsibility.
Amis: As Director of Employee Benefits the scope of responsibility includes the strategic direction and total management of the city's employee benefits, that's including medical, dental, life, vision, volunteer products. In addition to that, we are responsible for the city's pension administration. The city has both a defined benefit plan and a defined contribution plan with assets well over $3 or $4 billion on the pension side. The role is more of a liaison with the third party administrators.
The Chronicle: How long have you been with the City of Atlanta?
Amis: I have been with the city a total of 10 years. I was with the city for 4 years under the Shirley Franklin administration. Left the city and came back when Mayor Kasim Reed was elected.
The Chronicle: Looking back at the past 6 years, what have been your greatest challenges to overcome?
Amis: The biggest challenge for us primarily has been what is called a pension reform, and this is the same thing that most cities in the US are facing. The city's pension was the same as most governments. It was only funded at about 53 percent and the city had a $1.5 billion unfunded pension liability. Under the reform, the city basically saved $270 million and it is a close amortization versus an open amortization, and it's going to be a significant savings for the city and basically bringing the pension up to par as it relates to funding in the future in terms of longevity. Employees had to pay an additional 5 percent to keep the defined benefit plan, which is kind of rare to get in today's time. It also created an avenue for the future where future employees will have what we call a combination plan which is defined contribution and a defined pension plan where the year of retirement was increased, average age of retirement was increased, and there was a set amount of color. So it was a change in the way the city does business but it also allowed those employees who were in a very generous defined benefit plan to be able to keep that plan in place.
The Chronicle: So many moving parts.
Amis: Yes. I mean that's just on that particular side. On the other side, in terms of healthcare, obviously we are raising awareness like most public entities trying to continue to provide a quality healthcare plan and access to healthcare services with the rising costs. Also, one of the biggest challenges that we faced was that we did not pay into Medicare in 1986. So for any employee who was hired prior to that time, the city did not pay you into Medicare. We have them on our books from that point moving forward. So that was the change. But then the other thing is that, like most municipalities, both public and private sector entities that are here in the southeast, we are in a stroke belt, and what that means is a rise of diabetes, obesity, and cardiovascular disease. So for us, it's a challenge of continuing to provide care, provide access to care, and then do something in terms of disease management.
The Chronicle: So what you have seen in the past, and obviously recently was the change, and more of an awareness into the wellness side of your employees. What do you think is going to be your greatest challenge looking into 2016 as you start to run new initiatives moving forward from your perspective?
Amis: The greatest challenge for us is that we have been able to provide a unique experience. We are still able to provide probably one of the most lucrative benefit packages in all municipalities and that our increase in terms of premium increases, so our employees I know for the last five years have been at or below 5 percent, versus what you are seeing in national medical trends which is 18 and 20 percent. So we still have a very low deductible plan, $500 deductible for the individual and $1,500 for the family. We still offer an HMO plan and a Point of Service plan both for the gatekeeper. But the challenge is going to be to continue to offer those plans and also be able to be accountable to our stakeholders which are the taxpayers. Another challenge for us would be to identify people with chronic diseases such as breast cancer, hypertension, obesity, diabetes and create awareness among them. And second would be to keep the moderate from becoming severe.
The Chronicle: What steps have you taken to incentivize really good talents to not only come over to work for the city but stay with the city?
Amis: We have taken a different approach, in terms of employment. We've increased our police force. The goal is to have more officers on the street and we have maintained that. Atlanta is the largest municipality in the Southeast United States. So with that, we have people from all over the southeast area. For example, I think we had approximately 300 jobs or so that were open, and probably had 15,000-20,000 applicants for those jobs. So there is a desire to work here at the city. In terms of the benefits and some of the things, it is a great place to work. So we've been fortunate, and obviously the benefit package has been one of the things that have gotten people's attention in terms of having us to retain employees.
The Chronicle: What do you think is your greatest achievement as a city from your perspective? Is it the benefits, the low deductibles for healthcare costs? Is it the ability to offer a very competitive and attractive benefits package? Is it the ability to get talent that you otherwise could not get?
Amis: I would say that it is all of the above, but I think more importantly as a piece of this whole process what really doesn't get talked about now is having to report how you handle your old payout liability. We have in fact in the last four years, had about a $1.8 billion liability. We have been able to shave that down to I think almost $630 million. That's a trend that's not really, widely done in today's time especially in governmental entities because that's something that's facing a lot of entities. But we've been able to do that and we've been able to provide a quality healthcare without having to significantly raise cost and it's been a phenomenal scenario. I mean we've moved our retirees into Medicare Advantage plans. We've increased that enrollment. We're saving anywhere from $2 to $3 million annually just on retiree cost. That whole thing about employee engagement, that's been significant for us. So those are some things that we changed. About $250, almost $300 million was due to contract changes. Another remainder of 4 or 5 percent was just done through plan design changes. So we've done a lot of things in terms of wellness initiatives and things of that nature have resulted in significant savings on old payout liability and as governmental entities move forward, that's something to pay close attention to.
The Chronicle: It sounds like it's not just business as usual which from the outside looking in, is sometimes what we see these entities as doing. Instead it looks like the City of Atlanta is taking more of a business approach. What do you have to say about that?
Amis: The mayor's desire, obviously, is to be best in class. Being best in class means that you have to measure yourself against other employers who are light in size. We have about 7,800 active employees. We have about 5,000 just contracted, we have about 5,500 retirees and if you add their dependents, you're talking about 22,000 lives. That's a decent number and providing quality care to those is a difficult challenge. But if you want to be best in class, you have to be creative in terms of doing some of the changes that are being done in the marketplace and working with the rounds of being technology driven.
The Chronicle: What do you think would be one, or maybe even two things that would surprise people from the outside about the City of Atlanta that they just may not know about?
Amis: I would think the wellness initiatives would surprise a lot of people in terms of some of the things that we're doing. The public would really be surprised if they had a view of the fitness center that we're building. And let me add, that those are being built with the wellness funds. So it's not a direct taxpayer dollar being used to provide these benefits. We have one on slate which will potentially be complete the by Q2 of this year. The $2 million facility would include 145-square foot health clinic and 4,500-square foot fitness center that will be state-of-the art and that will even further enhance our abilities to meet the needs of the employees and their families. That center obviously will not replace the primary care physician but would be a place where city employees can go if they experience a minor emergency or minor medical issue and be seen by a physician, be triaged back to their primary care physician, obtain educational disease management information, and have pharmacy dispensing for non-narcotic level drugs at a minimum cost. The goal of that obviously is to allow employees to become more productive than really having to take time off and go to a doctor's appointment, they can go and see a physician on site.
The Chronicle: How would you explain your experience with Connex?
Amis: For me, Connex has been kind of an avenue to measure the pulse of what's going on throughout the country. I've had the opportunity to participate in probably three benefit conferences, and that has included a wide variety of employer groups, both public and private. The interesting thing for me is being able to find out some of the innovative things that are happening in the healthcare industry and the trends. To learn about some best practices and be able to practices and implement them here have been quite beneficial for us. In our whole effort to be best in class, some of the things that we're doing are kind of cutting edge trends that a lot of municipalities aren't doing.
The Chronicle: Would you say that you have encountered some pushbacks too?
Amis: Yes. We've seen a significant buy-in. The story has been that we've been able to maintain cost level that's below national average. And you have to provide a benefit package that's probably second to none and not to have to pay an exorbitant amount of money to have those benefits. It's something that our employees are now starting to understand and they're starting to appreciate.
The Chronicle: Fantastic. It was a pleasure talking with you and hearing about the innovative initiatives you're involved in with the City of Atlanta. Continued success – we'll be in contact again soon.
Amis: Alright. Nice to hear from you guys.