Posted on

February 9th, 2016

by Sarah Clawson
Leveraging Data and Implementing Change
Home

»

Healthcare Sector

»

Leveraging Data and Implementing Change
Hospitals and Health Systems are faced with the challenge of staying above the water in an environment of increasing demand and decreasing reimbursements. We asked Ron Short, EVP and CAO at Good Shepherd Medical Center about the successful initiatives he has spearheaded to achieve positive, organization-wide patient flow outcomes.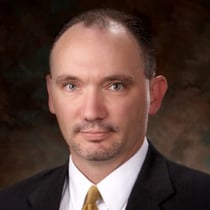 Thank you for taking the time to share your insights Ron. What are some of the most impactful technological tools that you have equipped your organization with in your efforts to achieve positive, organization-wide patient flow outcomes?
There are a number of technology solutions that assist facilities with patient throughput improvements. These systems include ED-centric EMR's, hospital information systems, bed tracking software, and the dashboards that accompany most of these products. For us, though, we have taken the approach that technology is only as good as what you do with the data it can give you. We believe that the more we can customize solutions to our specific needs the more likely we are to adopt the technology and the more like we are to effectively use the data we get from the systems.
Using this philosophy, we developed an in-house bed tracking system that was a graphical user interface that with one glance we can tell how many patients are on a particular unit, current nurse staffing levels, whether patients are in observation or are full inpatient admissions, and the level of care of each patient (medical, IMC, or ICU).
We also entered into a beta agreement with MEDHOST (Emergency Department EMR vendor from Addison, Texas) to develop both an ED-centric operational dashboard product (OpCenter) and a larger scale, hospital-centric through- put decision tool (MEDHOST HD).
Bridging the capabilities of these three systems, as well as our clinical staffing system, CareWare (Care Systems, Inc. from Rockville, Maryland), has allowed us to develop more effective methods of managing patient throughput.
How does Good Shepherd go about identifying bottlenecks using collected data. Were there any notable trends in what these hindrances were?
Analysis of the key patient throughput milestones is essential. These include each interim stopping point in the pro- cess such the intervals between arrival and triage, triage to an ED bed, in the ED bed to initial physician contact, initial physician contact to disposition decision time, disposition decision time to bed assignment time for patients that are admitted, etc. For patients in a hospital bed, one must assess average length of stay, the time between discharge order written to discharge order entered into the hospital information system (if CPOE is not implemented), discharge order entered to patient departure, housekeeping time to turn over each individual unit's peak discharge time (hour of the day at which the largest percentage of discharges occur), and the percentage of a unit's discharges that occur by noon and by 3 PM.
Initially our greatest bottlenecks were too few discharges early in the day (before 11 AM), average length of stay of inpatients and patients in observation status, and the decision to admit until an inpatient bed was assigned. All of these factors resulted in our average ED length of stay being too long to accommodate our ED volumes and lead to the number of patients that left our ED without being seen being too large for our liking.
Tell us about the interdisciplinary "Code Green" patient throughput team Good Shepherd uses to drive process change in all aspects of organizational throughput.
Code Green was an interdisciplinary team that focused on distinct functional areas of the patient throughput process. The Code Green teams were ED, Admission, Length of Stay, Discharge, and Mindsets. Each team was comprised of staff and physicians from each of the other functional areas, so that the ED team had inpatient nurses, the Admission, Length of Stay, and Discharge teams included ED nurses and physicians as well as social workers and other clinical staff. Having staff from outside of the core functional area gave each team a different perspective of the upstream needs and downstream impacts of decisions that each team made. This was a key factor in our ultimate success.
Additionally, each team measured the success or failure of its individual initiatives by how their actions impacted the time to admit patients from the ED. With his goal in mind, each team worked knowing that we would be improving not just the patient experience in the ED, but also setting up each inpatient unit for success with regard to its individual patient satisfaction scores because ED wait times have such an impact on overall perception of patient experience in the hospital.
What are some of the obstacles other leaders can expect to face when undergoing initiatives to change patient flow culture within their own organization? And what are some solutions or precautions that can be made to overcome these challenges?
The two largest obstacles I see in patient throughput process improvement is ready access to reliable and valid data and the organization's culture. Reliable and valid data is essential to determine the specific areas of the patient throughput process in which to focus ones efforts. We all have limited resources, so it is crucial that we put those resources in the place where the impact will be greatest. But without good data to guide that decision, we will make poor decisions on where to focus. Unfortunately, for most organizations, this is the easier of the two obstacles to overcome.
The bigger obstacle of the two I have listed above is organizational culture. Even the best laid strategy plan will fail if an organization's culture is not ready. Culture eats strategy for lunch every day.
Recognizing this, we employed the Code Green Mindsets team to prepare staff for the change we needed to make to improve our patient flow. The Mindsets team was comprised of Good Shepherd's most recognized and trusted staff. Their sole purpose was to visit with each of the Code Green teams, understand their plans, and then translate the proposed actions into a language that spoke to all frontline staff. Maybe most important is that the Mindsets team translated the message into a "what's in it for me" message for each unit in our hospital.
The end result was that every department in the hospital knew something about how Code Green would impact them, and many staff bought into the idea of improving the process even though their individual departments were not directly affected. The other essential action was to celebrate every success. Even the smallest successes were celebrated with recognition at the Code Green steering committee meetings, in our hospital wide leadership forums, or with traveling poster presentations and staff recognition. Success became contagious. That made all the difference in the world to the success of our process improvement initiatives.
What are some effective strategies and methods other leaders should keep in mind when undertaking the overwhelming task of mapping out a plan for making patient flow improvements?
Understand your issues. Lean out your processes. Engage staff. Do not be afraid to fail. Disseminate your results. Celebrate every success. Do not settle for mediocrity. You can do this!
Ron Short is a frequent best-practices contributor to the Connex Healthcare Sector.